Born and raised in S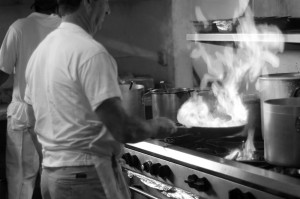 icily, Italy, chef and owner Joe Conigliaro's passion for fine Italian cuisine was instilled early on.  Joe's love of cooking developed as a young boy when he would prepare traditional Italian dishes in the kitchen with his mother in his home town of Carini, Sicily.  This education paved the way for Joe's future as a chef.  He learned quickly that the foundation for great dishes starts with fresh ingredients and a passion for creativity.  Joe still lives by that philosophy today with every dish he makes.
                At the age of 23, Joe immigrated to New York where he opened his first pizzeria.  It was during this time that he met and married his wife Maria and started a family.  Joe and Maria moved to Connecticut where together, they opened and operated several successful restaurants before moving back to Italy in the year 1998.  After four years abroad, Joe and Maria returned back to Connecticut and purchased "Bradley & Wall" deli.   Over time, Joe has transformed the business into a prepared-foods and pizzeria establishment with delicious dishes suited for every taste.
Bradley & Wall offers an extensive menu of sandwiches made with its own "schiacciata" bread, wraps, gourmet pizza, soups, and salad menu made with the freshest ingredients with the option to add grilled or Cajun salmon, tuna, or shrimp.  In addition, B&W offers an array of freshly made prepared foods for busy families wanting a "home-cooked" meal.  Joe is continuously creating new dishes to add to its specialty pasta, chicken, fish and vegetable dishes.  B&W is known for its dishes such as penne alla vodka, fresh grilled salmon, chicken cutlets, Cajun tuna wrap, decadent rice pudding and its infamous "try this" chicken schiacciata sandwich.   B&W has been recognized as the Shoreline Times' "Best Deli" and "Best Sandwich" and in 2013 was voted "Best Salad."  Still today, Joe creates new dishes that capture the taste of his small Sicilian town with the same meticulous attention to detail and passion as when he started 37 years ago.